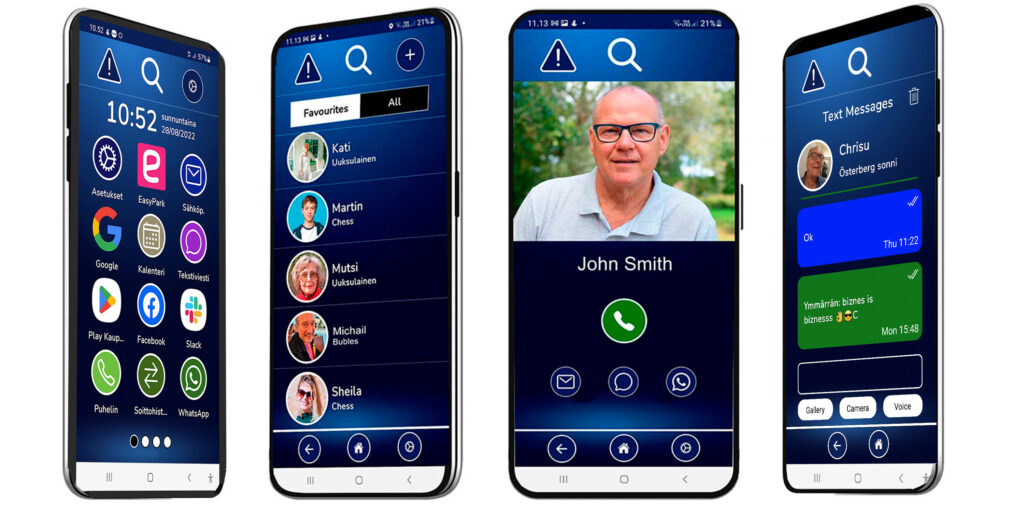 Looks like smartphone but its a lot easier to use.
CeniorPhone features - Just One Click!
CeniorPhone was created to serve senior users.
The application is the so-called "Launcher App", i.e. it starts the functions of the phone. CeniorPhone consists of two different downloadable parts, the main app and the call and SMS app. CeniorPhone can be downloaded free of charge from Galaxy Market.
We use the Android phone's own features to our advantage, modifying them into applications that are easier for seniors to use. CeniorPhone supports Android versions starting from 6.0. User interface
The settings icon is on the top right of the front page
– CeniorPhone management
Entering health information on the SOS page
Own information
Selection of CeniorPhone as home screen application
Selection of CeniorPhone's text messages as default
CeniorPhone call selection by default
Language selection; Finland, Sweden and England
Adding an SOS number or 112 App
Adding SOS contacts
Choice of icon size; Small, normal and large
Hiding icons without a Pin code
– Using a pin code to lock selected icons
Automatic birthday card creation
Theme
Choice of color theme; blue, graphite, green, purple, red, turquoise, white and blackChoice of icon colors; black, green, light blue, purple, pink and black
Choice of different background stones; 24 different pictures, as well as choosing your own wallpaper
Privacy statement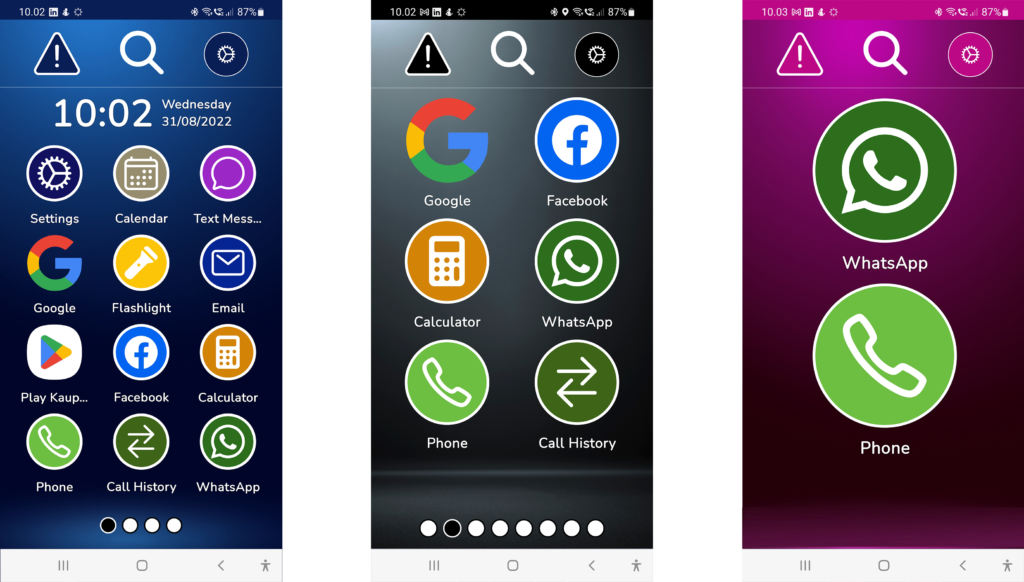 Three different icon sizes; small, medium and large.
General
We created our own clear call and text message features for CeniorPhone
We connected WhatsApp and Skype to contacts, so it's easy to call with WhatsApp or Skype without switching from CeniorPhone to another App. Just click to open the contact and make the call as desired
We installed Google's calendar as standard, which makes it easy to create appointments, reminders, etc.; medication reminders, appointments, tasks, etc.
The SOS button is always on display, as you can locate yourself, create an SOS group call, view health information and click on 112 App
The search opens a voice, text and birthday search
The icons can be placed in the desired order and adjusted to small, medium or large.
Hiding or displaying "useless" icons from sidebars is done with one click
CeniorPhone has numerous different color themes for personalization
After the call, you always return to the home page, thus avoiding confusion and pocket calls
CeniorPhone can be used in such a way that it always opens with an application or so that it is an App among other Apps, in which case by clicking on the icon it works as a senior phone
Olli Uuksulainen
CeniorPhone development
+358 451304001
[email protected]
Ask more about the new senior phone application!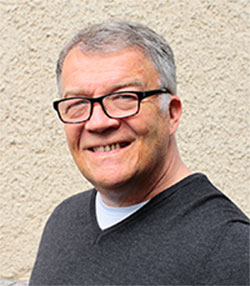 Olli has worked in the online business

more than 20 years consistently successful
from enterprises to new startups.
Olli Uuksulainen is an CeniorPhone founder and innovator.